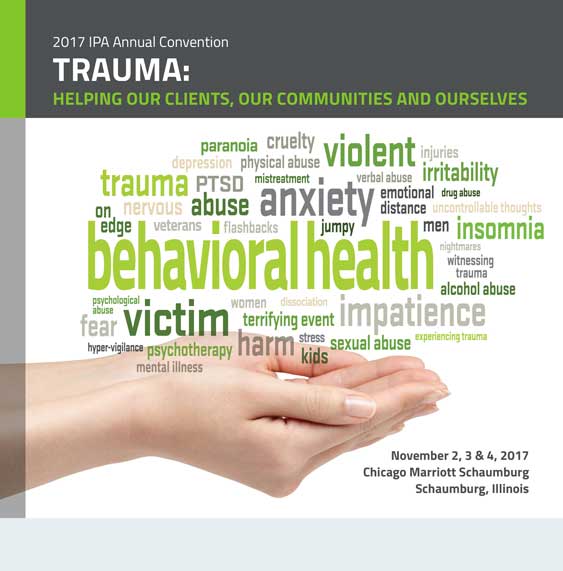 Click here to register for the 2017 Annual Convention: November 2-4, 2017
Registration is now open.
Click here to download a convention program brochure
Trauma: Helping our Clients, Our Communities, and Ourselves
IPA 2017 Convention: November 2-4, 2017
Marriott Schaumburg Hotel, Schaumburg, IL
Thursday's all-day pre-convention workshop will presented by Steven Gold, Ph.D.  "Conceptualizing and Treating Complex Trauma and Dissociation in Context." He works at the Trauma Resolution and Integration Program at Nova Southeastern University. This symposium will present Contextual Trauma Treatment, a conceptually grounded and empirically informed approach to helping severely traumatized and dissociative clients not only resolve the debilitating consequences of catastrophic experiences but also establish an appreciably enhanced, productive and gratifying quality of life. Videotaped session excerpts will illustrate this approach. Lunch and coffee breaks will be provided.
On Friday, November 3rd the IPA All Association meeting will be held, we encourage all members to attend. Exhibits will be open all day, and Student Poster Presentations will be on display.
The IPA Annual Awards Luncheon will take place on Friday and there will food breaks throughout the day. We hope you will attend the Presidents reception Friday evening. This is a great networking opportunity and good time to catch up with old colleagues and make new ones. The Therapy Players will be preforming to provide comic relief for everyone to unwind after a long day of learning.
 
Additional workshops will be held on Saturday, November 4th.
 
Keep in mind the continuing education hours you earn at this convention will apply to those required by the State for your next licensing period. Attend the entire convention and you will earn 15 continuing education credits.
2017 Convention Sponsorship Opportunities
IPA's Annual Convention offers a variety of ways to advertise your product to Psychologists. Ad placement in the Convention Program Brochure, Exhibiting at the convention, brochure/literature in convention tote bag and refreshment break sponsor. We anticipate approximately 300 psychologist and graduate students. Our Annual Awards Luncheon will be held on Friday, November 3th, where awards will be given to prominent figures in government, the media, business, and in psychological practice. Psychologist are interested in products for their practice but they are also academics and business owners. They want to know about health, life and liability insurance, legal services, psychological testing material, office supplies, computer products, technology, social media, books, office space, inpatient hospital and outpatient treatment programs, and investment information.
TO download convention advertising information or to learn more about submitting a program, go to the Upcoming Workshops and Conventions Page.