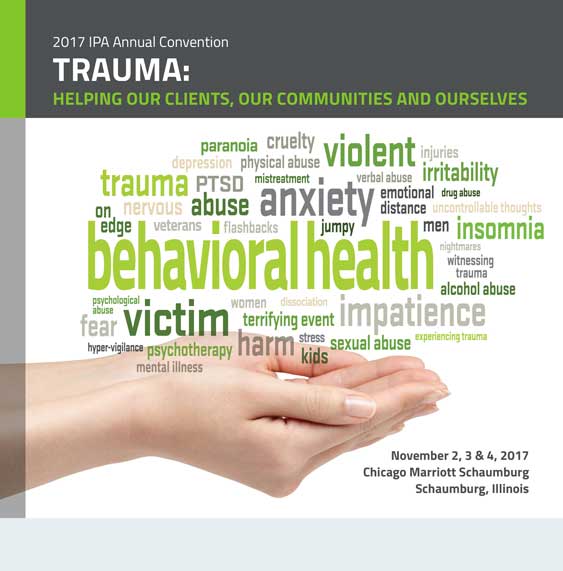 2017 Annual Convention: November 2-4, 2017
Call for Programs and Sponsorship Opportunities
Trauma: Helping our Clients, Our Communities, and Ourselves
IPA 2017 Convention: November 2-4, 2017
Marriott Schaumburg Hotel, Schaumburg, IL
Recent events in the news serve to highlight the many traumas that have an impact on our patients and our communities, as well as on psychologists in all of the roles in which we work. We therefore invite program proposals relevant to this topic to educate and prepare psychologists to better understand trauma in all its aspects, including its impact on the treatment of adults, children and families as well its impact on our communities related to social justice issues, the political climate and diversity issues. We also encourage submissions that address the effects on clinicians, those who work in communities and first responders. Finally program proposals relevant to the changing healthcare climate would give further context to this import and relevant topic.
2017 Convention Sponsorship Opportunities
IPA's Annual Convention offers a variety of ways to advertise your product to Psychologists. Ad placement in the Convention Program Brochure, Exhibiting at the convention, brochure/literature in convention tote bag and refreshment break sponsor. We anticipate approximately 300 psychologist and graduate students. Our Annual Awards Luncheon will be held on Friday, November 3th, where awards will be given to prominent figures in government, the media, business, and in psychological practice. Psychologist are interested in products for their practice but they are also academics and business owners. They want to know about health, life and liability insurance, legal services, psychological testing material, office supplies, computer products, technology, social media, books, office space, inpatient hospital and outpatient treatment programs, and investment information.
TO download convention advertising information or to learn more about submitting a program, go to the Upcoming Workshops and Conventions Page.