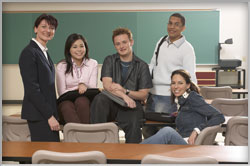 IPAGS MISSION STATEMENT
We at IPAGS strive to enhance the professional development of Illinois Graduate Students in Applied Psychology by developing and implementing programs to educate our members about legal and ethical concerns, clinical issues, and emerging roles. IPAGS believes that by educating future clinicians we help individuals make informed decisions, which will increase the practice of a competent psychologist. By developing professional relationships with psychologists and students, IPAGS strengthens the field of applied psychology and creates an environment for students to grow, learn, and develop.
One of the main resources IPAGS provides is the Graduate Quarterly. Please take a few moments to read our recent newsletters and if you like them, please consider becoming a member of IPAGS.