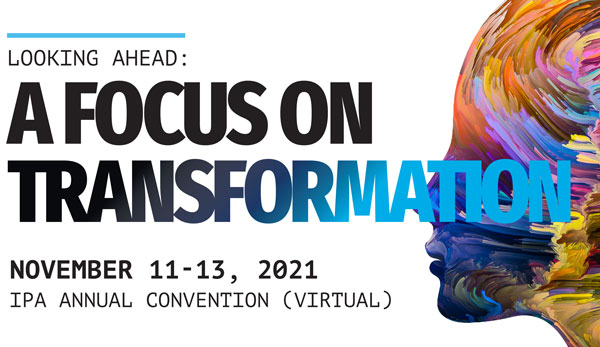 Click here to view this year's convention program brochure and to register.
---
Sponsor – Advertise
In response to the current COVID-19 pandemic, the convention will be held online via live webinars.
Psychologists are interested in products for their practice, but they are also academics and business owners. They want to know about health, life, and liability insurance, billing, legal services, psychological test material, office supplies, computer products, books, office space, inpatient hospital and outpatient treatment programs, and investment information (and this is not an exhaustive list). This will be an excellent opportunity for you to showcase any online services or products you have. Please consider promoting your organization and products with us virtually!
Click here to download the sponsorship opportunities form along with information on advertising in our convention brochure. The convention brochure (with active links) will be emailed to IPA members and as well as 4,000 psychologists throughout the state.
Please complete and return the attached form at your earliest convenience. Ads are need by August 25th. You can send logo and links later, however if you are premium level sponsor your logo will appear on the IPA website homepage within days of receipt. There is a limited number of spaces for ads on the convention registration landing page. These will be accepted on a first come base.
Thank you in advance for your support. Stay safe and well.
Marsha Karey
Executive Director
Illinois Psychological Association
67 East Madison St. Suite 1904
Chicago, IL 60603
Phone: 312-372-7610 x201
Fax: 312-372-6787
mkarey@illinoispsychology.org
---
2020 Convention Highlights
IPA President, Dr. Daniel Brewer presents the IPA State Elected Official Award to Governor JB Pritzker during the 2020 IPA Annual Convention.